Culture
Canova and Thorvaldsen in a new exhibition
Intesa Sanpaolo's Gallerie d'Italia in the Piazza Scala is celebrating the sculptors Canova and Thorvaldsen, allowing their most famous works to be compared for the first time
For the first time an exhibition is being staged comparing the works of Antonio Canova (1757-1822) and the Danish artist Bertel Thorvaldsen (1770-1844), who were contemporaries and rivals.
The exhibition at Milan's Gallerie d'Italia explores how the work of Canova – the "Father of Modern Sculpture" – helped define that of Thorvaldsen. "It was a competitive relationship between the two," says Giovanni Morale, coordinator of the museum. "Thorvaldsen tried to copy Canova, but changed his mind when he [Thorvaldsen] matured and tried to sculpt a new form of beauty, completely different to Antonio Canova's."
Art critic Alastair Smart explains why the neo-classical style of the two sculptors emerged. "It was a movement that responded to a lot of the excavations in Pompeii and Herculaneum that had just happened and there was a thirst for and interest in all things classical," he says. "These were two artists, Canova and Thorvaldsen, who were responding to that and created works in homage, if you like. But they were also putting their own twist on the great classical sculptures."
An anecdote tells of how, as a child at a dinner party, Canova carved a lion from a slab of butter. Smart notes how Canova was famous for the sensuality of his work and how he made very hard materials such as marble behave like clay. "The most famous work of his is The Three Graces; you wouldn't think it possible that this was a sculpture," he says.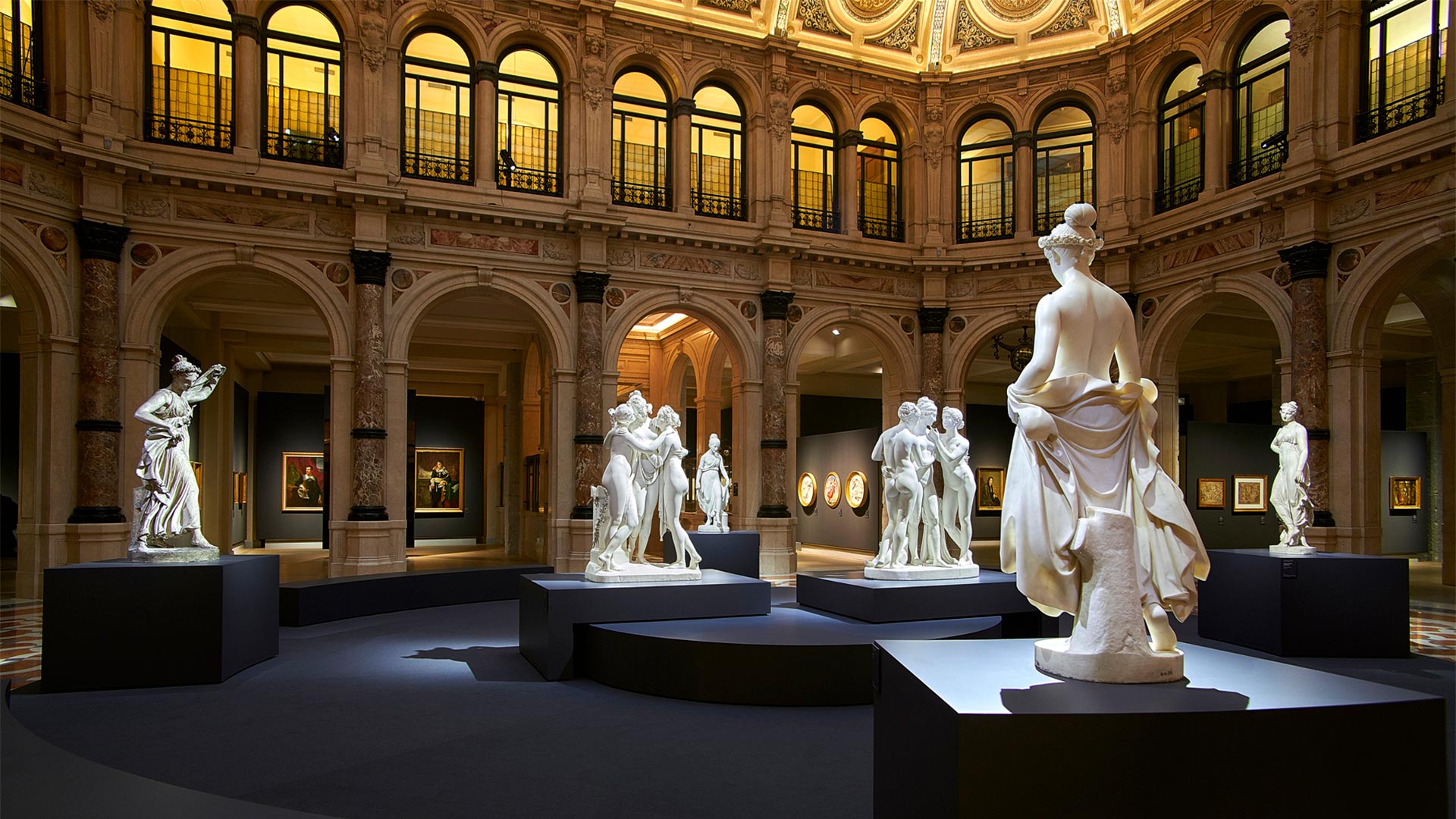 Although he was greatly influenced by Canova after living in Rome for 40 years, Thorvaldsen's work in contrast is slightly cooler and more austere, says Smart. Both worked for Napoléon Bonaparte as well as the popes, dukes and monarchs of their time.
Canova created his first version of The Three Graces, a marble statue of the mythological three charities (beauty, mirth and elegance), daughters of Zeus – Euphrosyne, Aglaea and Thalia – for the wife of Napoléon and it was later sold to Tsar Alexander I. It has been brought to Gallerie d'Italia from St Petersburg. Thorvaldsen also created a version, which features in the exhibition, too. This is the first time the two have been brought together in real life for comparison.
The exhibition also features two busts of Napoléon, one made by each artist. Morale notes how Thorvaldsen's version, while magnificent, cannot compare to the mastery of Canova's, but that doesn't mean the artist doesn't have some stellar pieces of work in the exhibition. "When Canova died, Thorvaldsen understood that he could change completely the creation and the realisation of sculpture," says Morale.
The exhibition brings together work from across Europe, including from museums in Copenhagen and St Petersburg, as well as from private collections, and took years of preparation. Audiences have flocked to the show and the gallery recorded 10,000 visitors in just one week. "It is a great occasion to see after two centuries these great neo-classicists and romantic statues together," says Morale.
Canova/Thorvaldsen: The Birth of Modern Sculpture is at the Gallerie d'Italia in Milan until 15 March 2020.
It is a great occasion to see after two centuries these great neo-classicists and romantic statues together
Giovanni Morale
Last updated 21 November 2022