Dialogue with stakeholders and materiality matrix
We are aware that the constantly evolving social and economic context and the increasing awareness of consumers require every company to be able to cope with the new dynamic scenarios. For this reason, we believe that a structured approach to stakeholder engagement is necessary to guide the corporate strategy on issues relevant to the business and stakeholders. To this end, we update the materiality analysis annually, in line with the process outlined by the GRI Standards.

2021 materiality matrix
The materiality matrix shows the positioning of the issues with respect to both the importance and priority given by stakeholders in our stakeholder engagement processes, and the level of priority for the Group, intended also as financial or reputational impact on the Bank.

Materiality analysis: the process
The Intesa Sanpaolo Group 2021 Materiality analysis process was set out according to the following macrophases:
Stakeholder mapping of Intesa Sanpaolo Group
identification of the relevant issues for the Intesa Sanpaolo Group and its Stakeholders based on benchmark analyses, national/international documentation and with respect to the strategic priorities defined in the 2018-2021 Business Plan
prioritisation of the issues through the involvement of Intesa Sanpaolo's Sustainability Managers (key contacts for ESG issues identified in each Area and internal Division) and the Stakeholders of the Group, in order to define the positioning of the relevant issues within the materiality matrix. In addition, the Steering Committee collaborates in identifying potentially relevant sustainability issues (ESG) for the definition and updating of the materiality matrix
validation of the materiality matrix.
Materiality matrix: variations vs previous year
In 2021, the material issues identified in 2020 in response to the requests contained in Italian Legislative Decree no. 254/2016 were mostly confirmed, including in terms of positioning. The analyses carried out made it possible to update the nomenclatures and descriptions of some issues, with the aim of providing a better explanation of some of the key aspects found. Furthermore, through the stakeholder engagement and by listening to the Sustainability Managers, it was possible to detect slight changes also in terms of positioning both from the point of view of the X axis (relevance for stakeholders) and from that of the Y axis (impact on strategies). The main changes introduced in 2021 include the new topic "Climate change", confirming the Group's strong emphasis on strategic and regulatory aspects. Thus, the Group formalised new and important objectives towards environmental transition, such as joining the United Nations Net-Zero Alliances for the reduction of net emissions down to zero by 2050, thereby expressing its active role in the collective pursuit against climate change. The new topic also incorporated the one previously referred to as "Direct environmental impacts" in the 2020 CNFS. In addition, the meaning of the topic "Innovation and digital transformation", which has now become "Innovation, digital transformation and cybersecurity", was changed in order to further highlight the relevance of IT security related aspects.
Material issues: risks, opportunities, trends and objectives at national and international level
Integrity in corporate conduct
The related issues refer to: fight against corruption, fight against money laundering, compliance with tax legislation, protection of free competition, respect for privacy and data protection, compliance with labor law, audit activities, litigation and sanctions.
Risks and Opportunities
Corruption prevention
Compliance and data breach risk management
Investments in sensitive sectors
Fight against organised crime
Trends and national and international objectives

Spread of organised crime

Incentive of ethical conduct
Fight against active and passive corruption
Protection of free competition
Compliance with labour laws
Privacy, Cyber & data security
Anti-Money Laundering
Fraud prevention 

Being a solid Bank, with growing profitability, allows the Group to contribute favorably to the interests of shareholders and all other stakeholders.
Risks and Opportunities
Credit quality

Efficient use of capital and diversification

Attraction of sustainability aware investors 
Management of business, ESG and reputational risks 
Changes in the organisational structure

Trends and national and international objectives

Globalisation and competitiveness

Evaluation of long-term scenarios including climate-related risks and opportunities
Promotion of transparent, efficient and ESG friendly financial markets
Dissemination of ESG values and culture
Assessment of the financial implications linked to ESG impacts
Integration of ESG issues into strategic business planning processes 
Growing focus on corporate resilience and business continuity
Service quality and customer satisfaction
The Group is focused on supplying excellent banking, financial and insurance products and services to customers, activating development levers for the local areas in which it operates.
Risks and Opportunities
Proximity to customers and operational streamlining
Product innovation and service models
IT risk
Unfair commercial practices
Reputational risks associated with the application of ESG factors/criteria

Trends and national and international objectives
Growth in bank deposits and increase in loans, due to or in relation to the uncertainty linked to the pandemic context
Business continuity and consumer satisfaction
Reorientation of the financial system towards an offer that incorporates the ESG criteria
Customer health and safety
Service digitisation
Multichannel services and customised offering
Increasing interest in cryptocurrencies and non-fungible tokens (NFTs)
Sustainable investments and insurance
Savings management and customer insurance protection are central to the Intesa Sanpaolo Group's activities, also from an ESG perspective.
Risks and Opportunities
Offer diversification
Management of reputational and ESG risks in investments and in relation to insurance products
Trends and national and international objectives
Investors' attention to ESG aspects and to the measurement of the sustainability of investments, also as tools to combat climate change
Customer satisfaction with asset management by financial operators
Integration of ESG risk factors into investment management and insurance activities
Promotion of sustainable lifestyles
Dissemination of ESG integration practices negative/positive screening, impact investing
Growing focus on sustainability reporting for financial services

Transition to a sustainable, green and circular economy
Our commitment to supporting the transition to a low-carbon economy through direct mitigation of its emissions and supporting green initiatives and projects for our customers.
Risks and Opportunities
Risks linked to climate change
Management of reputational and ESG risks in loans and insurance products
Trends and national and international objectives
Support to the growth of demand and supply of low carbon products and services
Increase in Italian companies' green competitiveness
Transition to a sustainable economy through a collaborative network and the promotion of circular development models
Support to loans for environmental projects 
Growing focus to the circular economy, as well as to the protection of biodiversity and ecosystem services
Dissemination of the environmental protection culture
Intesa Sanpaolo generates significant environmental impacts both deriving from its direct activities and from its business; as a financial operator therefore plays a fundamental role in orienting capital towards a sustainable economy in the short and long term.
Risks and Opportunities
Risks related to climate change

Operational protection in risk situations
Fluctuation of energy costs and related impacts on business costs and investments 

Trends and national and international objectives
Increase in global average temperature
Sea level rises and increase in their temperature
Increased frequency of extreme weather events
Adverse impacts for biodiversity and competition for natural resources
Increased set of regulations applicable nationally and internationally
Identification, management and reporting of governance, strategy, climate risk management, climate-related objectives promoted by the TCFD
Reduction and reporting of atmospheric emissions to combat climate change
Responsible use of energy and natural resources (including correct waste management with a view to circularity)
Clean and accessible energy and water
Promotion of actions aimed at mitigation and adaptation to climate change

Retention, enhancement, diversity and inclusion of the Group's people
Thanks to their professionalism, their different skills and their growth paths, the people of Intesa Sanpaolo continue to guarantee excellence in the quality of the service. merit, as well as attention to the issues of diversity and inclusion.
Risks and Opportunities
Talent attraction and retention
Investments in training
Diversity, equity & inclusion management
Enhancement of human resources

Trends and national and international objectives
Incentive of the banking consultant's proactivity for the dissemination of ESG products
ESG criteria in the incentivisation and inclusion of employees
Gender diversity, equity and inclusion
Dissemination of periodic performance evaluation models integrated with ESG elements
For Intesa Sanpaolo, the protection of employment is a priority issue to ensure economic solidity in the medium to long term and one of the elements that also characterized the 2018-2021 Business Plan
Risks and Opportunities
Employment
Labour law risks
Changes in the organisational structure
Lifelong learning

Trends and national and international objectives
Consultation and inclusion of employees
Continuity of employment/Welfare, well-being and social safety nets
Growing digitalisation and distribution of hybrid ways of working
Job mix transformation
Increasing work mobility and competition for the best talents

Financial inclusion and supporting production
Intesa Sanpaolo attributes a central role to the economic and social growth of the areas in which it operates, a fundamental element rooted in the history and way of operating of the Group.
Risks and Opportunities
Financial inclusion

Support to SMEs

Management of reputational and ESG risks in loans


Trends and national and international objectives
Increased levels of financial education including in terms of sustainability
Integration of ESG risk factors into credit management
Actions to eradicate poverty
Support for young people and the production sector
Intesa Sanpaolo attributes a central role to projects aimed at the social, cultural and civil growth of the communities in which it operates.
Risks and Opportunities
Brand enhancement
Group's leadership in society for the dissemination of the sustainability culture
Promotion and measurement of activities with high social impact
Investments in sensitive sectors and reputational risk
Management of current socio-demographic changes
Trends and national and international objectives
Social and economic development of local communities
Strengthening cooperation to achieve global sustainable development goals
Dissemination of social finance instruments
Increase in social inequalities
Rising average age of the population
Health, safety and wellbeing of the Group's people
For Intesa Sanpaolo, the definition of concrete approaches, policies and measures for the development, management and strengthening of a modern and integrated corporate welfare system, also central to maintaining high levels of satisfaction for its people, is of fundamental importance.
Risks and Opportunities
Company welfare initiatives
Work-life balance and flexibility
Management of employees' health and safety risks
Trends and national and international objectives
Attention to company climate
Attention to employees' health and safety
Dissemination of welfare and well-being practices
Application of protocols for the prevention and mitigation of biological risks
Innovation, digital transformation and cybersecurity
Intesa Sanpaolo intends to maintain sustainable business growth by leveraging the active involvement of people and a cutting-edge digital infrastructure
Risks and Opportunities
Compliance and data breach risk management
Service quality
Privacy
IT risk
Market and services diversification
Trends and national and international objectives
Digital transformation/Digital identity, online payments and billing
New technologies to ensure greater accessibility, effectiveness and excellence in the services provided
Digital customer experience
Dissemination of the use of Home Banking services
Increasing attention to the development and continuous improvement of data governance processes, cyber attack prevention and IT infrastructure resilience
Dissemination of artificial intelligence, blockchain technology, Distributed Ledger Technology (DLT) and robotics

SDGs and the link with matherial issues
Many of the targets set out in our 2018-2021 Business Plan have a close connection with 13 of the Sustainable Development Goals, intertwining with our materiality analysis, i.e. the relevant issues both in terms of impact on the group's strategies and for our stakeholders.

Stakeholder engagement
Here the stakeholders' map
Reasons for engaging stakeholders and generations of Stakeholder Engagement
For the Intesa Sanpaolo Group, the institutionalised forms of stakeholder engagement are opportunities for listening and dialogue, that are essential for understanding the level of satisfaction of its stakeholders in relation to the work carried out by the Bank. For certain Departments, stakeholder engagement is at the heart of their work - for example Customer Satisfaction Service, Relations with Consumer Associations Office and Investor Relations Service. 
For several years, ESG & Sustainability has been promoting ways of engagement that are focused on social and environmental responsibility and an increasing inclusion of these issues in the traditional and institutionalised engagement activities.
In this period, the process of including stakeholders in CSR issues has progressively developed: from an initial phase where listening was substantially aimed at resolving critical situations, to the definition of structured processes which are planned each year and are increasingly based on business and management activities. Preventative listening to our stakeholders (not as a result of a "reputational crisis") aids us in establishing a relationship of trust between the company and stakeholders, and, at the same time, in identifying new opportunities with a view to competitive positioning on the market
Generations of Stakeholder Engagement (AA1000, AccountAbility, 2015)


Third Generation: strategic and integrated engagement for sustainable competitiveness

Second Generation: systematic engagement aimed at managing risk and understanding the key stakeholders of the organization
 
First Generation: engagement triggered by external conditioning factors to reduce contingent problems

Methodology of involvement
The strength of the relationship with stakeholders is evaluated on the basis of three criteria:

Dependency: the stakeholders' degree of dependency on the Bank, in economic terms as well as geographical, relational, etc.
Influence: the degree of influence the stakeholder has over operational or strategic decisions of the Bank, the impact that the stakeholder may have on the Bank's "licence to operate"
Proximity: the degree of frequency and intensity of the relation between the Bank and the stakeholder.
To define and implement its stakeholder engagement process, Intesa Sanpaolo identifies the following principles as the foundation on which to build highly effective stakeholder engagement:

Inclusion, meaning promoting stakeholder engagement in developing and attaining a responsible and strategic response to sustainability
Materiality, meaning understanding the relevance and importance that an issue holds for an organisation and its stakeholders

Responsiveness, consisting in providing an adequate response to issues raised by stakeholders, through decisions, actions and results as well as through communication activities.
The stakeholder engagement process implemented by Intesa Sanpaolo was developed along two levels:
the operational (or overall) level aims to verify the degree of consistency perceived by several categories of stakeholders between the commitments undertaken and the actions effectively implemented by the Bank. The most suitable methods for this type of engagement are questionnaires and quantitative surveys, and structured forms of listening such as focus groups 

the strategic (or planning) level aims at engagement involving strategic issues for the Bank and at offering stakeholders an opportunity to contribute to the planning of the Bank's future strategy. For this type of engagement, the most suitable methods are in-depth interviews or multistakeholder engagement methods which also involve the Bank in direct contact with the stakeholders involved 
Intesa Sanpaolo annually conducts the stakeholder engagement according to the process defined by the AA1000 reference standard of AccountAbility and uses specific engagement methods for the various categories of stakeholders, also addressing the issues represented in the materiality matrix.

The choice of the engagement method depends not only on the type of involvement to be achieved (Operational or Strategic), but also on the degree of maturity of the issue to be addressed and on the representativeness of the stakeholder to be involved.

For example, in the case of issues that have a transversal impact on several of the Bank's activities, such as climate change or the issue of internationalization, the most suitable methods for strategic involvement have been selected (in-depth interview and multi-stakeholder forum), conversely, for issues relating to a single stakeholder such as employee incentive systems or the quality of customer relations, methods such as focus groups or quantitative questionnaires have been adopted.

The methodology provides for following activities: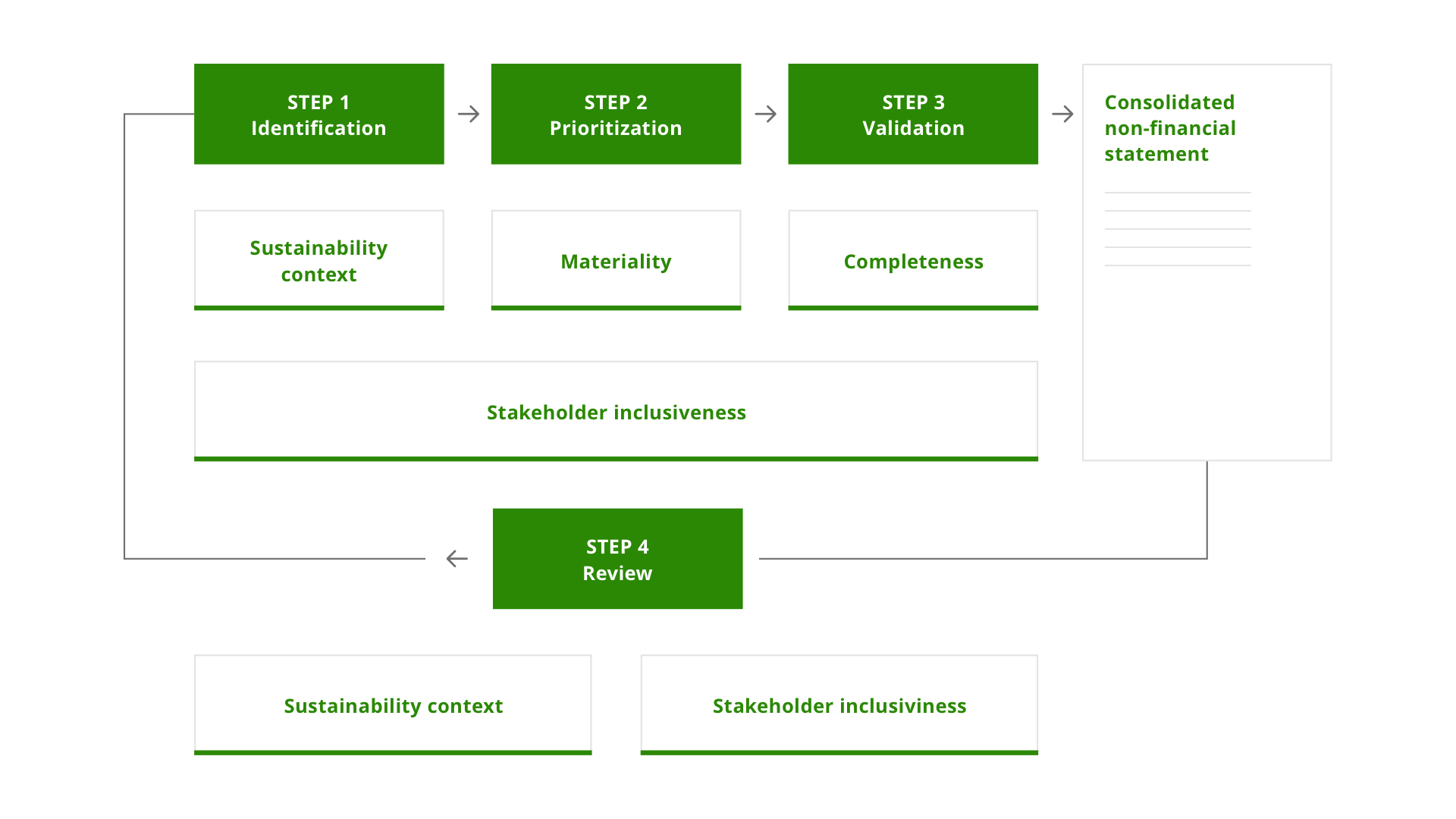 Last updated 23 March 2022 at 17:09:54