Solidarity
The story of Médecins sans frontières and emergency aid in Ukraine
My name is Ylenia Fiorino and I deal with partnerships with companies and foundations for MSF Italia. 
The outbreak of war in Ukraine on 24 February resulted in devastating humanitarian consequences for the civilian population: hundreds of thousands of people were forced to flee the country, and those who remained found it increasingly difficult to access the medical and pharmaceutical care they needed.
Providing support to the civilian population through the Charity Fund
Thanks to the Intesa Sanpaolo Charity Fund, we were able to respond to the emergency immediately: today in Ukraine and neighbouring countries, there are around 300 Médecins sans frontières humanitarian workers working hard to provide emergency medical supplies to hospitals, train staff in healthcare settings to manage the huge influx of injured people, and provide basic care and mental-health support to civilians.
Two months into the conflict, we had imported over 200 tonnes of medical supplies and other materials and converted a train into an emergency clinic that, by that point, had transferred over 200 patients from conflict zones to major hospitals far away from the front line, so they could receive specialist care in a safe place.
In Kharkiv, our teams are providing basic medical and mental-health care day and night to people staying in metro stations to escape the ongoing bombardment. In addition, MSF is supporting those fleeing into neighbouring countries with sleeping bags, warm clothes and tents to help them cope with cold weather, and mobile clinics providing basic and mental-health care. Our teams include medical staff (surgeons, doctors, nurses etc.), psychologists, logistics personnel and administrative staff, and communication experts.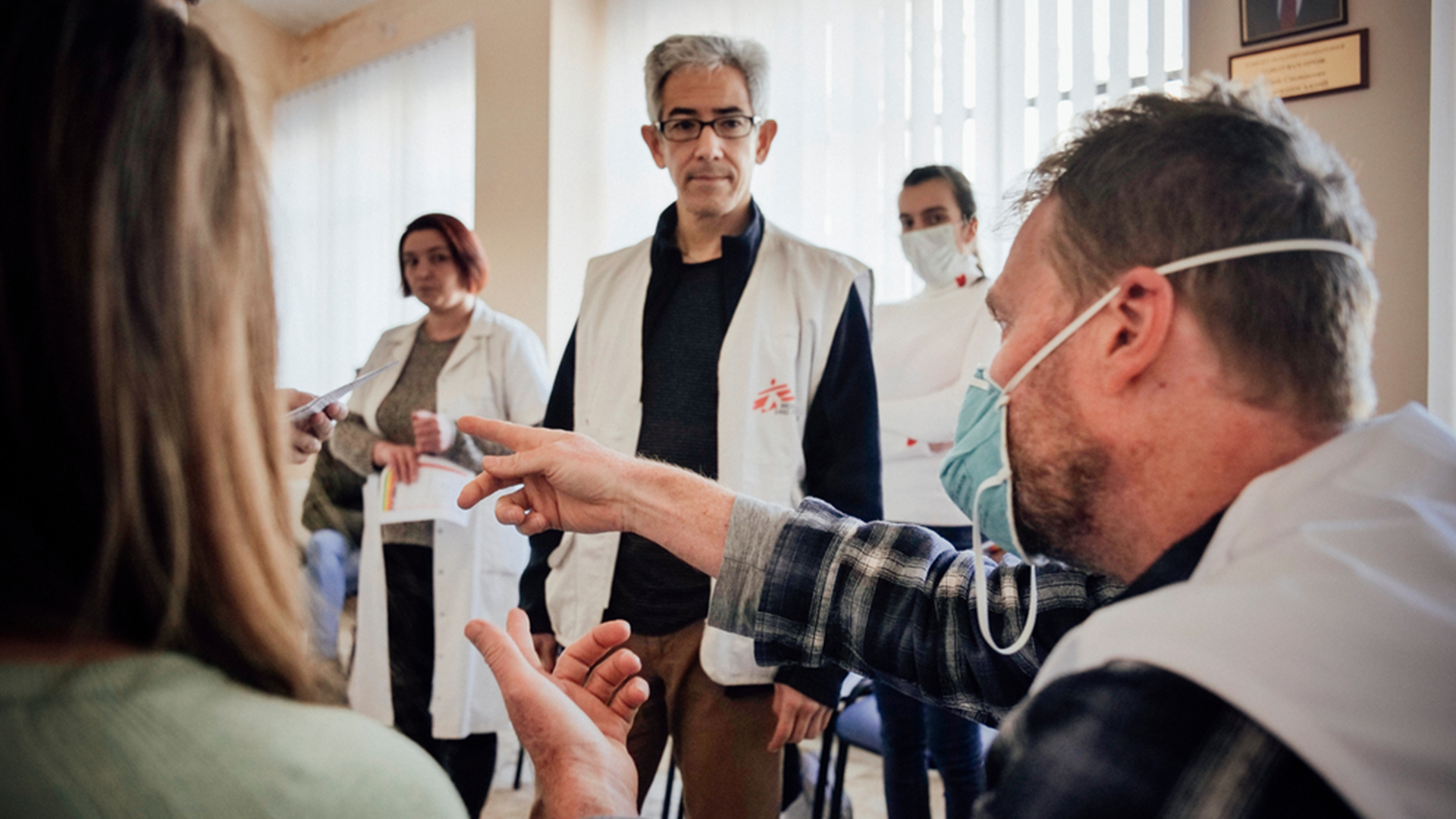 After assisting MSF in responding to Covid-19 in Ukraine in 2020 and our regular HIV- and TB-related projects in the Donbass region in 2021, the Intesa Sanpaolo Charity Fund has now chosen to continue supporting our emergency health response in Ukraine and the neighbouring countries. 

Find out more about the Charity Fund
All the information you need to understand the work done by the Charity Fund.
Learn more
Last updated 4 April 2023
Useful information for accessing the Fund